Food And Beverage Services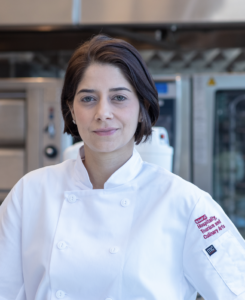 Our Executive Chef Lilian Cardoso and talented Culinary Team have designed seasonal menus highlighting local Ontario products and sustainable seafood options. Catering at The Event Centre is exclusively supplied by our team of culinary staff and students, with a variety of styles of service to choose from to suit the needs of your event. For specific food and beverage menu options please contact us.
All of our menus are Feast ON and Oceanwise certified
BREAKFAST OPTIONS
Fuel your morning or event by starting with a breakfast to impress and energize your guests. From fresh seasonal fruit and in-house baked goods to traditional hot breakfast, we have several options to perfectly suit your needs.
BREAK OPTIONS
Take a break between agenda items or host a beautiful reception in the light of our panoramic view of this spectacular city.
LUNCH OPTIONS
From classic to contemporary, our lunch offerings are the perfect complement to your event. Let us help you choose the service style that best fits the flow of your day to create a seamless dining experience.
DINNER OPTIONS
Impress your guests with an elegant buffet or plated dinner which our team can help customize to suit the specific needs of your unique event.
RECEPTION OPTIONS
We have a large selection of hors d'oeuvres, platters, food stations and bar packages to offer for reception style events.  Please speak to an event coordinator for more information on options that will suit the unique needs of your event!